12d acts locally (while 'thinking globally', as ever)
It's not often we at 12d Solutions get to travel 'just down the road' to see 12d Model in action – most of the projects we've seen it used on over time have been a fair distance away from our Northern Beaches location. But in recent times, that trend has changed a little.
In February, our Managing Director Dr Lee Gregory caught up with Campbell Blogg – General Manager of ESO Surveyors to chat about – among other topics – what it's like to be able to concentrate some efforts on local road projects instead of travelling to the other side of Sydney, and around the rest of Australia.
ESO Surveyors first started using 12d Model software all the way back in 1997. When 12d Field was introduced to the product, they took this module on with enthusiasm, and have been loyal users ever since.
Campbell said, "When I came to ESO they were using 12d Model for roadworks and civil. When I came on board, I brought the building sites as well, and on the building sites we remained using other CAD packages…and over time we transitioned everything into 12d."
ESO Surveyors currently has around 65-70 staff, so – like 12d Solutions – It has grown a lot over the years, having begun with just a handful of surveyors. They keep a support network of four-five people in their Frenchs Forest office, and the rest of their staff members tend to be surveyors, working on site or out in the field.
The breadth of the types of jobs ESO Surveyors is involved in is huge – Campbell told us, "We'll do anything. We've been exposed to rail, buildings…most of our work is roadworks. We've done wind farms, we've done solar farms, we've done bridges. We can turn our hand and our experience to most things. We've got offices now in Brisbane, Melbourne, Adelaide, and here in the Northern Beaches of Sydney, of course."
Of the changes that have occurred in ESO Surveyors (and indeed the surveying industry in general), Campbell said, "There was a period when we went from two-person teams down to robotic and one-person teams quite quickly. During that transition, there were a lot of unhappy surveyors because they had to then do most of the manual work, but that's just the way the industry evolved. It's an unfortunate side effect. It's always nice to have an assistant to help. But that's just the way it went."
As a firm, ESO Surveyors has embraced technology in everything they do, with the ever-present goal of becoming more efficient…and their many and varied clients see the benefits of that. With 65 people, they are essentially doing the work of what might have been 180 people, say, 15 years ago.
Said Dr Gregory, "It's been great to have ESO working with us for so many years – you were one of our very early customers on the surveying side – and seeing the changes, and as you said, you were using other software for some parts but over time have totally transitioned over to just 12d Model with 12d Field."
Campbell agreed, "It's been good to be involved for so long with 12d Solutions – also a Northern Beaches company – and to see how both companies have grown together. The people 12d has in Frenchs Forest and Warriewood have been great support over the years."
Lee also caught up with Greg Cech from ESO Surveyors, who is currently employed as the Survey Manager on the Northern Beaches Hospital road infrastructure job. Greg has been on that project for two and a half years, and it was going for approximately a year before he started. All ESO's work on this project is being done in 12d Model with 12d Field.
Greg confirmed what an exciting project this is to work on, and told us a little about the masses of infrastructure underground – services and such – which of course slowed down the apparent construction for a few months, even though the actual construction was still going on underneath. He said it's getting to a particularly interesting point from a public perspective as bridges are now being constructed, so people coming past will be able to see the bridges, as well as the slot, which is also starting to be constructed and will be a big visual enhancement in the space. The 'slot' is what will come out from Wakehurst Parkway; colloquially it may be known as a 'tunnel', but that's not the technically correct term. Greg told us that it's actually literally a slot that goes up to about eight metres deep, and the east-west through traffic will run in the slot. Local traffic will run up above it.
During the earlier phases of this project, there were massive disruptions to traffic through the area, but it's now flowing much better than before. Greg said he hopes it will only get better as they get more and more lanes open up to through traffic.
All in all, a very exciting project, and one we're proud to say 12d Model and 12d Field are being used for!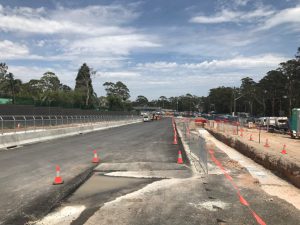 In addition to that important local project, ESO Surveyors is currently involved in the duplication/upgrade of Mona Vale Road, and they're using 12d Model and 12d Field on that project, too.
Greg said, "We've started that only recently, and that looks like it will be an interesting project in amongst all the bush there."
One of the most important aspects of that project, Greg said, is being completed by the teams in charge of finding safe and secure ways to pull down large sections of rock, and to keep the traffic flowing – there are some unique challenges involved in a project like this! Due to noise restrictions, they tend to have to work during the day, so there are added challenges there – lane closures and such – but the long-term benefits to the area will be huge.
Campbell, too, is pleased that the Northern Beaches area now seems to be such a hub of activity after so long without significant local projects (the B-Line being the only notable exception). Lee agreed, stating, "I don't have to go so far to say hello (not to mention to see the benefits of these great enhancements to our local area)!" Both are interested in how things will continue to progress as the proposed tunnel under the Spit Bridge comes into fruition.
Campbell added, "It's definitely nice to be able to drive through project and check it out without taking three hours out of my day! And I really enjoy knowing that we're helping our local community, contributing something important to the area we know and love. It's great to see progress happening locally, and to be a part of that."
ESO Surveyors was originally based in Harbord (now Freshwater), but has now been based in Frenchs Forest for about eight years. They find it to be a more central location. It's a bit closer to the arterial roads, so it's a bit easier to get to the projects, and for Campbell it works particularly well because it's only seven minutes from his home!
Lee commented, "It's fantastic to see Australian firms grow and take on more and more of these big jobs as well, rather than just overseas companies. We'd like to congratulate you on your fantastic journey so far, and may you double again!"
Campbell responded, "We're looking forward to the next 10 years – there's a fair bit on, so we hope to keep growing."
12d Solutions – another local firm – can trace a similar path of growth over time. In 2016, we celebrated our Silver Jubilee Anniversary…at the time, we shared this update:
1991…Nirvana released 'Nevermind', 'Terminator 2' graced cinemas, Pierre-Gilles de Gennes won a Nobel Prize for Physics…and 12d Model (then 4d Model) was released!
From humble beginnings in the basement of the Gregory household, 12d Model has evolved over the last 25 years into being a market leading product throughout Australia, and we at 12d couldn't be prouder.
Two young men – Dr Lee Gregory and Alan Gray – had a vision back in the late 80s/early 90s when they started this process…they wanted to help civil designers save time and money by offering them software which was easy to learn and use, and which would allow them to design everything they needed to in one place – a concept planning tool. In the years that have passed, 12d has continued to expand on that goal to include detail design, highway design, surveying, 12d Field, urban drainage, Drainage 2D, visualisation and 12d Synergy, and to expand the team that helps make that happen. It just goes to show that when great people make great products, great success can be enjoyed by all involved!
Our 2016 Conference marked the Silver Jubilee anniversary of the release of 12d Model, and we were very excited to share that momentous occasion with many of our wonderful users. We've since held our largest event to date, the 2018 12d Technical Forum – with well over 500 attendees – and are in the process of putting together our 2020 Technical Forum (to be held back in Brisbane, from 2-4 August 2020 – registrations are open!