Over the years, Survey Managers such as Greg Cech of ESO Surveyors in Sydney have seen great changes in technology and in working practices across the industry. Tools such as software have opened doors in ways that once would have seemed impossible. When Greg started his career as a surveyor, he was working with what "…was basically a coordinate list that you used to type in and manually turn the jigger. Nowadays, we're running 12d Field with fully robotic Leica equipment; it's a different world completely."
Greg has seen the industry move from teams of multiple surveyors down to what are often one-man teams, thanks to robotics. When he started, he was working in the country and that was usually a three-man team. He was just a field assistant back then, spending all his time clearing lines and helping with the manual calculations. Back then they used to just use standard computer aided design (CAD) packages, which weren't ideal for survey work – they're more drafting packages. Having a package that is intended for surveying is "a huge boon," according to Greg, who started to use 12d Model software when he joined ESO. He found it an interesting challenge to update his skills in this way, as the packages he had used before were a lot more basic. With 12d Model, his initial thought was the shock at the size of it – he found himself going down multiple menus, finding new and improved ways to do things…which, as he became more proficient with it, wasn't as daunting as it originally was.
Nowadays, at ESO, the jobs Greg is involved in tend to be quite complex; the simple jobs are mostly a thing of the past. He finds the more complex jobs much more simulating, commenting that, "It does get to the stage where just setting something out along a straight line is fairly monotonous, and it is good to stimulate your mind and learn how to do things a slightly different way."
He has moved into the world of what the industry terms 'BIM' – building 3D models and setting out from the 3D models rather than just drawings and such. That's a whole new skills-set that ESO has been building up over this last decade. Greg said it has its advantages because through being able to actually rotate an object in 3D, you can see any peaks and troughs. You can visually look at something and see if it's correct. A lot of his calculations now are done graphically rather than mathematically. He finds that an easier way to check things, stating, "We can look at it and if we have to make an amendment to the design or something like that, the engineers can sit down with us, and the strings change be changed – we can show them what it will look like." His team then gets the sign-off through the designers, and they are able to construct to that.
With the new techniques and all this melding technology, surveyors and the engineers are working much more closely than ever before. The engineers Greg works with have 12d Model licences as well, so they are able to get in and look at the models as well. Most of the time, engineers don't have access to a CAD package, so they're more reliant on surveyors to show them what the actual objects being constructed are going to look like and visually see any discrepancies or clashes. Greg feels that being able to see what's going on more easily has helped engineers get a helpful idea on how things are supposed to fit together.
Dr Lee Gregory, CEO of 12d Solutions Pty Ltd (creators of 12d Model software), said, "I notice in some other work where people are picking up a lot more data as it is being built – especially underground services and such – that the construction firms, once they actually saw just how complex their jobs really were to show to the world, got very enthusiastic about seeing the 3D models of what they built."
Greg agreed, saying, "With the services we have the GDPs, which are the dig permits. They all rely on the 3D modelling we do with 12d Model software." He went on to state that "The paper plans just don't have the detail anymore. They're more an adjunct to the 3D model, the computer aided design work…They are more for details for fitments and things like that. Being able to construct a whole job through the paper plans would be difficult."
Greg's career has moved through the transition of 2D paper plans to a full 3D model – or BIM…he's been seeing that trend starting to happen through the industry. He feels it's "handy because anything that gives you more information is always better. You're able to locate clashes that weren't located before, or discrepancies between two plans." He's using it also for as-built or as-constructed pickups, so he's able to see potential clashes – e.g. if things weren't put in the right place – straightaway. His team uses 12d Field to compare the original model to the as-built model as they're picking it up in the field – the 3D modelling is all happening right through the project, not just at the beginning. Lee commented, "I've waited 30 years for people to finally realise that services and things are important! I remember once in 1986 an engineer told me that it was often cheaper to move the roundabout or whatever than to move the services. So no one ever used to pick up the services."
Greg responded, "Up here [on the Northern Beaches of Sydney], moving forward, new services will be better located; they'll have a permanent record that can be passed on to anyone else doing work in the area, and that'll make a huge difference." This means they're picking up most of those things now before they're buried, and they have a full 3D proper model as it is, as constructed. That can then be handed back to the owners or to the various authorities so they can have it there for the future, to hopefully minimise future service strikes.
Through his career, Greg has seen trends move from three-man teams to one-man teams, and surveyors moving from just picking up shots to being data managers and controlling what's going on from the construction side. He's been watching the changes in technology, in the way things are done, in the type of job…going from total stations that measure distance that take a very a long time with two people, to robotic equipment, one-person teams, laser scanners, drones…he's seen it a change a lot. ESO has some drones and some pilots. They're all ancillary services now to what they provide; on the projects the client expects a broad range of services. This makes ESO a 'one stop shop'. They're managing a lot of the data for these clients. On some projects, they're supporting the client's survey resources as well as managing the data. This means they've had to start using more powerful computers. They've got some pretty powerful servers that control the backups for the whole company. They've found an online cloud system just doesn't handle the size of the data that they've got. They're managing a lot of that, including archiving, themselves, and keeping control of it.
Campbell Blogg, General Manager of ESO Surveyors, has also seen the change from smaller three-man teams, down to one-man teams, and totally moving technology. There was a period when they went from two-person teams down to robotic and one-person teams quite quickly, and there were a lot of unhappy surveyors because they had to then do most of the manual work. Said Campbell, "It's an unfortunate side effect. It's always nice to have an assistant to help. But that's just the way the industry evolved."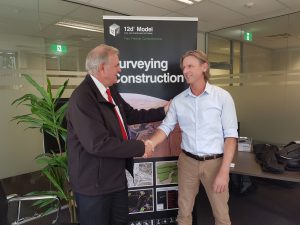 ESO has used technology in everything, to replace having two or three people and become more efficient. As a result, they're more efficient, and their clients see the benefit of that. With 65 people, they're doing the work of what might've been 180 people, years ago. The production that they put out now is far greater than 15 years ago. The surveyor's role has massively increased productivity and helped their clients. A lot of projects now are even pegless – just feeding data to machine control and checking it. ESO was involved in the Western Sydney Orbital project, which was one of the first jobs that was pegless. It was reported that a million dollars were saved in wooden pegs alone on that project, thereby setting in motion the trend of that pegless type of technology.
Campbell stated, "The industry keeps evolving and it keeps evolving very quickly…and it's sometimes hard to know what technology to focus on." Lee pointed out that unfortunately, that probably also means the price of equipment and such is rising as there are a lot more assets. Campbell agreed, "The technology comes at a price and we as surveying companies have to keep up with that pricing. But that's the way it goes. The client is now getting so much more efficiency and so much more data that it's a very different service to what we used to supply, so it's all worthwhile. There are a lot of moving parts to a business of this size."
When asked where he sees ESO Surveyors going in the future, Campbell replied, "Well, there are a lot of infrastructure construction projects in the pipeline, and ESO wants to be a significant part of that. So more of the same. Advancing the technology, using the latest, and a bit of growth."
–Lisa Stewart
A few months ago, we shared (in our Dirt Digger Newsletter – subscribe here) this related piece by Graham Wirth, who is Product Sales and Marketing Manager for 12d Field, with responsibility for management, development and channel creation of 12d Field services and products.
Graham has over 35 years of experience in the civil construction industry, and a wealth of knowledge of 12d Model and other software packages.
The Surveyor's role into the future
Australian Surveyors, and our spatial industry as a whole, are very advanced and have readily adopted state-of-the-art data capture equipment, methods, and management.
However, new technologies are enabling non surveyors to capture data and information. This is a dangerous situation, and one that requires careful monitoring to ensure the supplied spatial data is 'fit for use'. For example, with the advent of drones, scanning and BIM, often a flat earth approach is used. On a small scale such as a building structure, this is sufficient, but when looking at data on a regional scale, this approach falls short. Surveyors are trained to ensure that all such data is 'fit for purpose'. That is, the surveyors are trained to be the 'data certifiers'.
Today's data is no longer simply x,y,z coordinates, but now encompasses alignments, strings, services, surfaces, point clouds, and 3D models. Plus an ever-increasing amount of metadata and attributes, and QA information. In the future, all projects – design, construction, QA, As Constructed – will be totally digital and supplied to all clients, agencies and authorities as the one point of truth. Paper plans will only be a method of examining the digital data. The development and use of open standards such as ADAC and IFCs will help make this possible. With their background in handling such a variety of data, surveyors are the perfect 'data managers'.
There has been a rapid move to using full Windows Tablets instead of Windows CE devices for use with all survey equipment, and this means that the modern surveyor can have just the one computer and operating system to merge historical, current and future survey data rather than the data being locked away in silos. The office software can now truly be the field software so that everything is easily integrated.
Some software companies such as 12d Solutions saw these trends and added 12d Field modules to the existing 12d Model software rather than making a plethora of separate programs. This means that ALL the options within 12d Model are available to the surveyor, not just some arbitrary subset. For in today's world, it is impossible to know what a surveyor may be called on to do.
The NorthConnex tunnelling project in Sydney (NSW) is an excellent example of cutting-edge technology being used right now.
With the use of 12d Field and Leica's MS50 and MS60 scan stations, the project's surveyors are delivering previously unheard-of time savings in capture and subsequent QA reporting of the tunnel excavation. This project has 19 road headers (tunnelling machines) running simultaneously. 12d Model with the 12d Field module provides the tools to create the tunnel surface using Trimeshes for solid and surface modelling. The scanned excavated or finished tunnel sections are captured live into 12d Field, providing the contractor with live information for areas requiring rework, QA reporting, and as-constructed point clouds with rich attribute information. All survey data for the project is managed through the 12d Synergy data management system – another way in which the industry is rapidly changing, using data collaboration solutions. This is an intensely demanding environment for surveyors and tunnellers alike, but with 12d Software tools and the latest scanning survey equipment, a mammoth task has been made surmountable.
It is clear that the role of the Surveyor in the future will continue to evolve, as it has over the past 30 years. We've gone from field books and notes to large point cloud data sets. But the common theme is to manage and supply certified data to the industry. And with products such as 12d Model and 12d Synergy, Surveyors will continue to help users manage existing and future digital formats as they arise. So the future for Surveyors is very bright indeed. The sky is, in fact, not the limit!