12d International Conference 2016 declared a success!

The 12d International Conference 2016 was an incredible success. Thank you so much to the 400+ delegates who attended; feedback has been overwhelmingly positive, and we were so happy to have you all on board!
Comments from delegates' feedback surveys included:
I loved having the opportunity to see how others are using 12d Model on their various projects, [and the] opportunity to speak directly to developers.

It was great being brought up to date with the latest and best practices using the software.
I particularly enjoyed the previews of features in the new version.
Everyone was so open and helpful!
The best aspect was seeing the uses made of 12d to streamline user needs, and taking away ideas for improving [my] own systems/processes.
Keep an eye on our social media channels in coming weeks - we've already started sharing some great photos of our Silver Jubilee event, and we'll start sharing footage as soon as the editing process has finished!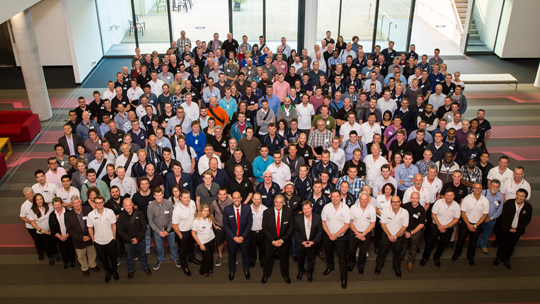 1991…Nirvana released 'Nevermind', 'Terminator 2' graced cinemas, Pierre-Gilles de Gennes won a Nobel Prize for Physics…and 12d Model (then 4d Model) was released!
From humble beginnings in the basement of the Gregory household, 12d Model has evolved over the last (nearly) 25 years into being a market leading product throughout Australia, and we at 12d couldn't be prouder.
Two young men – Dr Lee Gregory and Alan Gray – had a vision back in the late 80s/early 90s when they started this process…they wanted to help civil designers save time and money by offering them software which was easy to learn and use, and which would allow them to design everything they needed to in one place – a concept planning tool. In the years that have passed, 12d has continued to expand on that goal to include detail design, highway design, surveying, 12d Field, urban drainage, Drainage 2D, visualisation and 12d Synergy, and to expand the team that helps make that happen. It just goes to show that when great people make great products, great success can be enjoyed by all involved!
Our 2016 Conference will mark the Silver Jubilee anniversary of the release of 12d Model, and we're very excited that we'll be sharing this momentous occasion with many of our wonderful users. This Conference will once again be held at the Brisbane Convention Exhibition Centre on Sunday 24th, Monday 25th and Tuesday 26th July, 2016.