12d International Technical Forum 2018
Brisbane | July 29-31 2018
12d Technical Forum 2018 - Agenda
12d Technical Forum 2018 - Flyer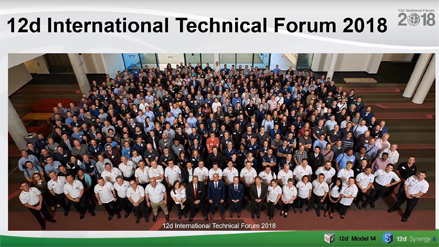 Introducing...the 12d International Technical Forum! We've recently received some feedback suggesting that calling our big biennial event a Conference doesn't adequately capture how very technical the sessions are, and just how much information is packed into those three days! So we've decided to give it a new name to better describe just how full your brain is going to be by the end of 31st July...join us for the best value 12d learning experience we can offer, in Brisbane, this July!
In addition to the industry talks and presentations by our own team, we will continue the very popular 'Birds of a Feather' breakout sessions on Design, Surveying, Three Waters, and 12d Synergy.
Here's a list of just some of the topics that will be covered at this huge event:
12d Model 14 Highlights
12d Synergy 4 Highlights
User Project - NCTIR
Model Tree
Project Settings
IFCs
Combined 12d Field
Model of the Earth and GDA 2020
ARR 2016
User Project - BG&E
Point Clouds
Plotting
Multipage Plots
Tunnels
Document Management
'MTF on Steroids'
Attribute Manipulator
Structures and Services
Clash Detection
Public Works standards
12d View
BIM
Pavement Generation
Tablet-friendly mods
Spatial Search
ADAC
User-defined house connections
Calculating ROI
Implementing 12d Synergy
What Happens to your Crash Logs?
Bells Line of Road
Westgate Tunnel
12d Synergy in a Multi-Office Environment
Dynamic Water Supply
NorthConnex Update
Mount Messenger Alliance
Pavement Generation
Haunched Pits
Setting out BIM
...and much, much more!
This event will be an invaluable learning and networking experience for users of 12d products and other industry professionals, in all areas of civil design, surveying and construction.
The accompanying 12d International Innovation Awards will be presented at the Technical Forum Dinner - thank you to all those who entered!
The 12d International Technical Forum offers:
A great opportunity to increase your 12d Model and 12d Synergy skills
The ability to interact with the developers of 12d Model and 12d Synergy
The chance to network with and learn from other 12d Model and 12d Synergy users
Pricing:
Full Technical Forum Package $800 +GST
Welcome Event (Add Guest for $95 +GST)
Technical Forum Dinner* (Add Guest for $200 +GST)
3 Full Days of Technical Forum Main Sessions
Any Technical Forum 'Birds of a Feather' Sessions
All Technical Forum Publications
Morning/Afternoon Tea Breaks and Lunches
12d Polo Shirt and Other Goodies!
*Includes 12d International Innovation Awards 2018 Ceremony
Dates: Sunday 29th, Monday 30th and Tuesday 31st July 2018
Venue: Brisbane Convention and Exhibition Centre (BCEC) – Boulevard Level, Grey St Section
Accommodation: Can be booked Hotel manage by Ozaccom or organised individually.
Technical Forum fees are payable in full prior to the Technical Forum

Cancellation Policy:
1 Month Prior to the Technical Forum – 20% Fee Applies
2 Months Prior to the Technical Forum – 10% Fee Applies